Dear ITFS family,
Wishing you all a prosperous and optimistic welcome to 2021. I am not sure about you but I am thankful that we are now in a new year, and hopeful that this year will be far better than 2020. Last year was one of the, if not the worst years I have experienced in my lifetime. However, one of the better outcomes of last year was the stock market, especially for the Nasdaq, as the chart below indicates. GO TECH!

Last year Consumer Cyclicals and Tech were the leading industries, up 52% and 42% respectively. This year, I still like Tech, honestly, I am not sure when I will feel differently, as an "early adopter" and someone who likes ease and change, Tech will always be my industry of choice. However, it seems that perhaps we are now ready to take climate change seriously, so adding Renewable Energy to our portfolios would be wise. For those of you who have been working with me for a while, it is an industry that I have tried before and it didn't work out, alas, it was too early, but now is the time.
Lastly, many of you are aware that we closed escrow on our own commercial space early last year. We have been in the process of building it out and look forward to moving in by March. This was the most exciting thing that happened for us in 2020. No more parking issues, close to all the major freeways for easy access. We are so excited and look forward to having you all join us in a 25th anniversary/open house party once it is safe to do so.
Attached you will find your annual performance report, the 1099's will be available via TD shortly. I personally want to thank you all for entrusting us at ITFS to look after your financial needs and look forward to many more years of prosper and growth.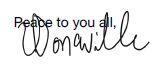 Vanessa A Donaville
Principal Investment Advisor
6465 San Pablo Ave. 1-1
Oakland CA. 94608