REady to Guide you every step of the way
Take the uncertainty out of your
home purchase with our experienced Loan Advisors. 
OUR Home Purchase Programs

The standard fixed term mortgage that is often seen as a 30 year fixed term.  Other terms are typically available such as 25, 20, 15 and 10.  Talk to us about your financing needs. 

U.S. Government-backed loans, FHA home purchase loans are great for borrowers with low down payment and have more flexibility with credit than conventional loans. 

Adjustable (ARM), Interest Only, and More
ARM, Interest Only and other loan products that work for home buyers that may not want a conventional or government loan. 
Our team is ready to help you with financing for your new home, providing refinancing options or creating opportunities for investors.
Home Purchase Loans for Everyone

Learn more about the home purchase process and the steps you can take with our team to ensure a successful home purchase.

If it is your first home purchase, you need a team that can help you navigate the purchase and financing process in terms you can understand. 

Investors have different needs when purchasing homes for rent, flip, and portfolios.  We have programs that can accelerate your strategy.
Purchasing a home is one of the most important events that you and your family will experience. It can be very exciting but, sometimes a bit stressful.  InTouch Realty Services is here to help; our goal is to provide you with the most exceptional service while reducing stress.  
Step 1: Getting Pre-Approved
Getting pre-approved is an important step in the Mortgage Process.  Without a proper pre-approval, you won't know what you qualify for; this could lead to unnecessary frustration down the line.
Step 2:  Find a Realtor
Finding a reputable realtor in the area when purchasing a home is key to getting an accepted offer in this market. A good realtor will understand the market and your needs.  InTouch Realty Services can help you find and manage the home buying process in tandem with our Home Loan Team.  
Step 3:  You Found a Home and Made an Offer – It's Accepted.
Following These Simple Steps Will Keep You Informed And Moving Along In The Right Direction.
Ordering a Home Inspection
Your realtor will help you schedule an inspection on the property with
a certified inspector
We recommend that all borrowers obtain a Home Inspection
The Home Inspection will identify whether or not your new home has major issues or repairs that may have overlooked; for example, roof, furnace, structural, plumbing, and any other major elements of your home.
Step 4:  Application, Knowing Your Options and Gathering Documents
Average Turn Time Is 3-7 Days, Depending On How Quickly You Respond
After your offer has been accepted you will work closely with your Loan Officer
on Mortgage Financing.
Based on your credit profile, income, and assets your Loan Officer will discuss potential Interest rates, programs, and terms that best fit your individual financial situation.
Your Loan Officer will review your personal document and may request updated information for anything that has expired.
Below is a starter list of documents that must be submitted to your Loan Officer as soon as your offer is accepted:
2 Years Personal Tax Returns

Must be signed on Page 2 of the returns
Must include ALL pages and Schedules

2 years W2's and full 2-year employment/ work history

Must include all W2's from all employers

2 months' worth of bank statements

Must include ALL pages even if the last page is blank.
The total available balance on your liquid assets (check-ing or Savings) must be at least the amount your Loan Officer has informed you that you will need for closing.
This includes the amount required for your down payment, closing costs, pre-paids, taxes, and insurance
Cash Deposits are NEVER acceptable; cash deposits can never be used for closing and/or down payment.

All large deposits must be documented and sourced outside of your regular deposited payroll checks.

If you are applying for an FHA Insured Mortgage, a large deposit would be any single deposit, that is not payroll, which is 1 % or greater than the appraised value.
If you are applying for a Conventional Mortgage, a large deposit would be any single deposit, that is not payroll, which exceeds 50% of the total qualifying monthly income.

More documents and the complete list is in our Mortgage Education Center
Home loan resources to help you understand your options when getting a loan and purchasing a home.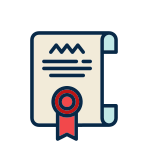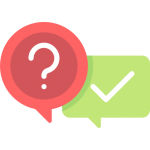 Frequently Asked Questions (FAq)
Questions and answers to your home financing questions.  Our experts have the answers. 
Our Loan Officers are ready to assist you with your home loan.  Guiding you every step through the process to ensure a successful transaction.